Civil Construction Hobart
We offer the safest and the most cost-effective civil construction Hobart property owners have come to trust and rely on thanks to our highly skilled and dedicated team. Each member in our fully licenced civil excavation team holds specific qualifications that allow them to deliver quality-assured civil construction services and become the most well respected civil work contractor in and around Hobart.
We can complete any type of civil building construction work thrown our way including basement excavation, pool site excavation, and more. We have a huge fleet of excavation equipment available at different sizes and load capacities that allow us to work even in the tightest spaces, with relative ease.
Our team of civil excavation specialists are capable of managing excavation projects for our –
Commercial as well as
Domestic clients who are in urgent need of excavation services.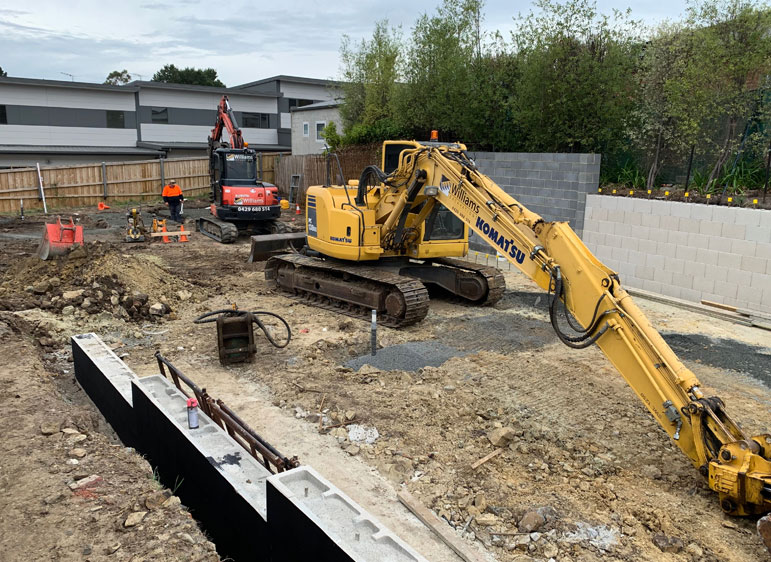 Civil Work Hobart
We are blessed to be backed with a highly skilled and dedicated team where each member holds the highest qualifications for imparting the highest quality civil work Hobart has ever seen at affordable rates. Be it a commercial building, a home, or an industrial complex, to ensure that the building has strong structural integrity, the same must have a strong foundation.
This is where we come in.
We are an experienced civil construction company in Hobart and we have been in this sector for more than 24 years!
We are blessed with a dedicated team of professionals with years of experience civil earthmoving. We offer comprehensive civil earthmoving services for medium-to-large scale projects. We are known for our forward-thinking attitude that consists of creative and innovative solutions for our clients, in and around Hobart.
Where do we offer our dam excavation and construction services?
We offer civil earthmoving and excavation services to our clients located throughout Southern Tasmania including Barossa Valley and Adelaide.
Why Choose Us?
You choose us for the following reasons –
We have highly-skilled, trained, and professional team of expert heavy equipment operators and supervisors under our payroll that allow us to provide excellent services and that too at affordable rates.
Our quotes are competitive and will always be well within your budget.
We have years of experience.
All of our equipment operators, supervisors, site technicians and team members have the necessary training, the necessary licences and insurance.
We provide prompt and reliable services, every time.
Our company is licensed, insured, and has the necessary paperwork that marks us as a legitimate service provider.
To get a FREE on-site quote, get in touch with us by calling on 0429 680 514 / 0417 505 842.