Dam Construction Hobart
Williams Excavations is backed by a highly qualified dam construction team that has the capacity and expertise to complete the strongest dam construction Hobart can trust while meeting client's needs and expectations.
Dam construction and all the related upgrades involve complex processes which can include highly sensitive elements such as specific construction techniques, water/environmental controls, and strict quality checks. It requires an extensive combination of plants, resources, and experienced labour to complete on time and budget.
We have the resources and the capabilities to complete dam construction projects in no time and that too at reasonable rates. We are focused on  methods that deliver the best results for dam construction Hobart has ever seen. Our long-term environmental vision and commitment to sustainable practice mean that our dam construction works are built to last.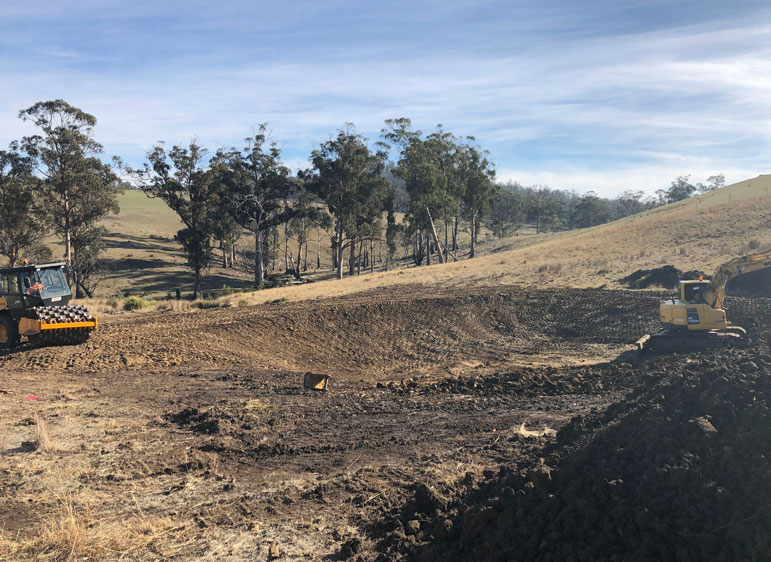 Dam Excavation Hobart
Our team has participated in some of the most critical dam construction and dam excavation Hobart residents know over the last 24 years. We understand the complexities of these types of projects and the need for coordination within the entire project team to deliver projects on time.
We strive to provide, with a minimum of delay, the other parties with any elements they may need. Such as access roads, building pads, controlled fill zones, post construction services and set up, sheet piling, site drainage and sewer work.
We recognise the importance of maintaining open communication with our clients so that they can be sure of our work processes. If a problem arises, we facilitate an outcome that ensures the project's best interests. From dam excavation costs to all the elements involved in dam building, we'll discuss everything with you.
Where do we offer our dam excavation and construction services?
Our dam excavation and construction services are available to our clients located throughout Southern Tasmania including Barossa Valley and Adelaide.
Why us?
We are a large, multidisciplinary excavation company with experts under our payroll for projects relating to earthworks and construction. We have the capabilities, motivation and resources to complete projects in time and within budget.
We are backed by innovative technology and are proficient in techniques that allow us to ensure we are at the forefront of meeting the requirements of our clients.
For more details, feel free to give us a call on 0429 680 514 / 0417 505 842.