Demolition Contractors Hobart
Wiliams Excavations has built a strong reputation for being the most reliable demolition contractors Hobart residents can trust at the most competitive prices.
With our 24 years of industry experience, we offer all types of demolition services including residential and commercial demolition. We are capable of handling projects of all sizes, scopes, complexities, and/or time constraints thanks to our team of highly skilled, qualified, and expert demolition contractors in Hobart.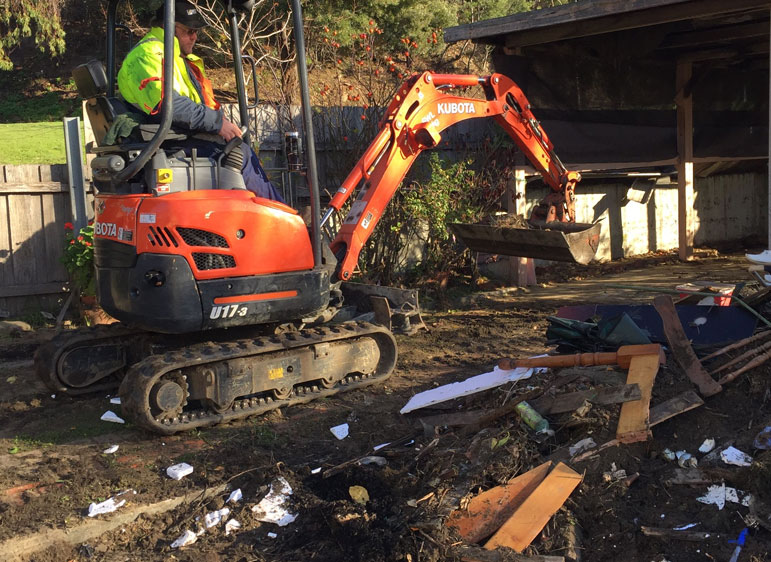 Site Demolition Hobart
As one of, if not, the best contractor for site demolition Hobart residents have come to rely on, for us, no demolition work is too complex or too small. We can bring down entire structures, clean the site and make it ready so that the construction process for your dream project can begin.
We are blessed to be backed with experienced demolition professionals whom we have trained to handle the toughest challenges and delicate jobs with utmost ease!
We adhere to transparency when it comes to offering our clients with demolition quotes. We respect deadlines and also offer guarantees on the work we do for you.
We are a fully insured and licensed company which is why we follow all the safety norms and regulations pertaining to demolition thus ensuring that the work we do is on par with the norms set by the Australian apex authorities.
Where do we offer our demolition services?
We offer our demolition services to our clients located throughout Southern Tasmania including Barossa Valley and Adelaide.
Why us?
If you are looking for the leading demolition contractor Hobart has to offer, then you should hire us.
We have years of experience and we have all the certified skills and necessary experience to complete all types of demolition-related jobs.
On top of this –
We complete all demolition projects within the budget set by our clients and on time.
We own and operate our own machinery and materials.
We only use in-house staff that we have hired.
Nothing is outsourced.
Our operating standards make us more reliable and efficient.
We work with the site crew to coordinate domestic demolition operations.
We have experience in handling demolitions in varied places and terrains.
We plan domestic demolitions meticulously and execute them efficiently.
Call us now on 0429 680 514 / 0417 505 842 to get your FREE on-site quote.