Rock Breaker Hire Hobart
With extensive industry-specific knowledge and experience, we can provide you with the most efficient rock breaker hire Hobart sites have seen. You can expect us to delver the highest level of service, advice and solutions that meet the specific needs of your project and ensure you achieve the maximum return on your capital investment.
Our technicians are dedicated to providing you with quality-assured results. They can offer you advice and match the right equipment for the job application. This is critical to achieving the highest level of results.
When a full turn-key solution pertaining to rock breaker services is required, our engineering and project management resources have proven record of delivering innovative, high-quality and cost-effective solutions to optimise your operations.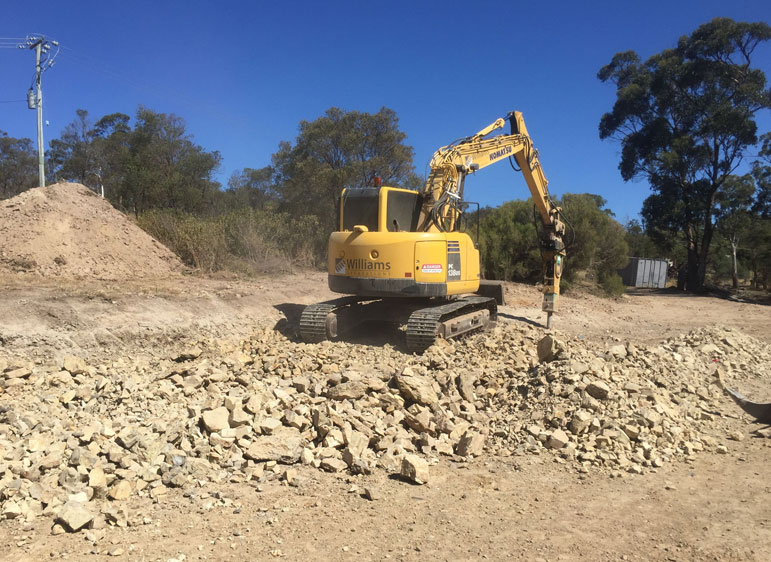 Excavator Rock Breaker Hobart
When you hire us to deliver the most efficient excavator rock breaker Hobart sites have come to rely one,  you can count on us for the results you want and need.
Williams Excavations has always operated under strong values aimed at exceeding client needs. Our communication channels are always open. Our relationship with our clients begins on the first day of contact.
At Williams Excavations, we pride ourselves with having the most highly skilled and motivated team. Our rock breaker hire in Hobart includes equipment options such as rock crusher, cement breaker, excavator rock breaker, and more. We provide solutions that meet the expectations of our clients and that too at affordable rates.
Where do we offer our rock breaking and rock crushing services?
Our rock breaking and crushing services are available to our clients located throughout Southern Tasmania including Barossa Valley and Adelaide.
Why us?
Getting the work done reliably and on time is essential and therefore we have selected only industry-leading team members. This allows us to harness their industry-specific knowledge and experience which in turn, allows us to provide you with quality assured rock breaking and crushing services, advice and solutions that meet the specific needs of your project.
For more details, feel free to give us a call on 0429 680 514 / 0417 505 842.