Road Repair Works Hobart
When you contact the Williams Excavations team dedicated to providing the best road repair works Hobart has to offer, you can expect to deal with a professional team with over 24 years of experience in all types of services.
Our road resurfacing professionals can not only repair chips and cracks but also work on rapid road repair concrete and improve the aesthetic quality of roads. Problems in road repair works in Hobart are made easy with Williams Excavations.
Our focus is on delivering the highest quality public or private road repair work and maintenance Hobart residents can rely on with no shortcuts. We are confident in the quality of the work that we deliver, and guarantee all work for your peace of mind. We are committed to continuous improvement and we incorporate the latest equipment and techniques into our standard business practices.
Strict quality control protocol, occupational health and safety, risk and environmental management procedures are integrated into our core business systems to ensure we deliver an outstanding product without incident. So if you need cement or asphalt road repair, don't hesitate to get in touch.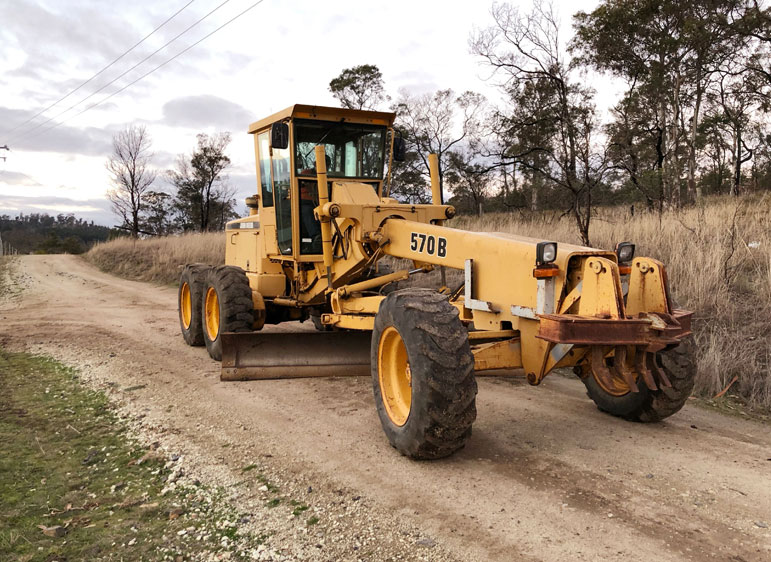 Road Grading Hobart
We specialise in providing the most accurate and precise road grading Hobart residents have ever seen. We have experienced operators and machinery for projects of any scale or level of complexity. All operators have extensive knowledge and expertise in grading gravel roads, cement roads, and other types of roads. We also follow all onsite health and safety regulations thus ensuring all projects complete without incidents.
Roads need periodic grading. It is the only way to keep it operational and safe from eroding especially in case of a flood or during heavy rains.
Road grading consists of using a motor grader to restore the driving surface and drainage attributes to roads. The operator will remove washboards, potholes and other irregularities by cutting the surface of the road or filling them with material moved back and forth across the road with the road grader.
Where do we offer our road grading and repair services?
We offer our road grading and repairing services to our clients located throughout Southern Tasmania including Barossa Valley and Adelaide.
Why choose us?
At Williams Excavations, our priority is safety. We have taken all necessary precautions in obtaining the proper licenses and insurance to ensure everyone's safety while we work. You and our contractors are protected if anything should happen during our services. Schedule your services with our professionals today.
We have a whopping 24 years of industry experience. In our years of operation, we have handled a wide variety of projects so we can carry out just about any driveway service for you. We take a "ground up" approach, meaning that we do a thorough job on our work and cover our bases to give you a professional result.
To get your FREE on-site quote, give us a call on 0429 680 514 / 0417 505 842.