Plant Equipment Hire Hobart
If you are looking for the most cost-efficient plant equipment hire Hobart has to offer, Williams Excavations is the team to call. You can utilise our large fleet of plants from well-renowned heavy equipment manufacturers. Whether you need small plants or full-size plants or plants for wet projects, we have them parked in our compound. We offer these special pieces of machinery and related equipment for hire at affordable rates.
We offer the most well-maintained and high-performing plant equipment hire Hobart residents can trust to use for excavation as well as earthmoving projects in both commercial as well as residential sites. So, no matter what your project needs, talk to us about how our complete plant hire solutions can help.
In case you don't know how to operate them, we can also offer you trained VOC-compliant operators at reasonable charges. Our operators hold heavy vehicle licences and have gone through RII competency tests as well.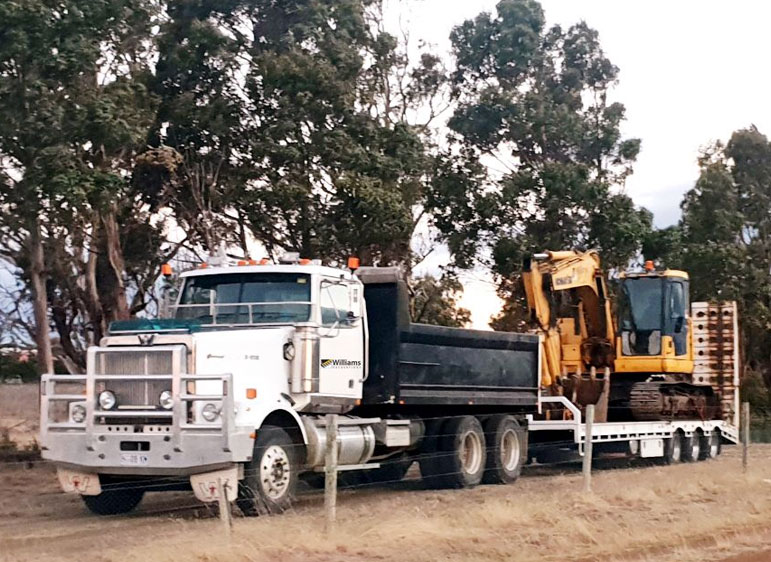 Truck Hire Hobart
We also offer the best quality truck hire Hobart residents and use for a different purposes. Our garage has a large fleet of heavy-duty trucks that you can hire from us for small-to-large scale excavation, earthmoving, and/or construction projects at affordable rates. So whether you need a removal truck hire or a tipper truck hire, don't hesitate to reach out to us.
We have highly trained and qualified truck operators who have years of experience, under our payroll.
Furthermore, we made sure that we are hiring equipment operators who have undergone the required industry inductions, training, and qualifications. This allows us to keep the worksites safe for our clients as well as for our team members.
Where do we offer our plant and truck hire services?
Our plant and truck hire services are available for our clients located throughout Southern Tasmania including Barossa Valley and Adelaide.
Why choose us?
You can gain access to our wide range of plants from well-renowned brands like –
ASV Posi-Track
Bobcat
Digga
Komatsu
Kubota
Positrak
You can choose from a wide range  of options if you need plants ASAP such as –
One-Ton Excavators with 200L Buckets, 350L Buckets, 450L Buckets, 600L Buckets, Auger, Backhoes, Booms, Breakers, and Brooms
Bulldozers
Compactors
Crushers
Cutter Bars
Diggers
Drills
Elevating Scrapers
Flashers
Grabs
Graders
Grinders
Hammers
Hole Cleaners
Laser Levels
Levelling Bars
Loaders
Mini Diggers
Mini Excavators
Pallet Forks
Post Hole Diggers
Rippers
Rock Bolts
Rock Breakers
Rock Grabs
Rock Hammers
Rock Saws
Rollers
Skid Steer Loaders
Skid Steers
Spreader Bars
Stick Rakes
Trenchers
All of our plants and trucks are well maintained and we also offer on-site assistance to our clients in case our trucks or plants break down during project work. We also offer skilled operators and truck drivers at reasonable rates.
For more details, feel free to give us a call on 0429 680 514 / 0417 505 842.