Retaining Wall Construction Hobart
We specialise in the installation, repair, maintenance, and retaining wall construction in Hobart and the surrounding areas. Our team can work on various project specifications. Want to build concrete retaining wall? Talk to us!
Retaining walls will not only add aesthetic appeal to your property but also increase its value in the market, in case you are planning to sell it today or in the near future.
Retaining walls can also be added on your property's exteriors as a means of beautification. On top of this, it also provides the necessary support to the soil in and around your property thereby reducing soil erosion.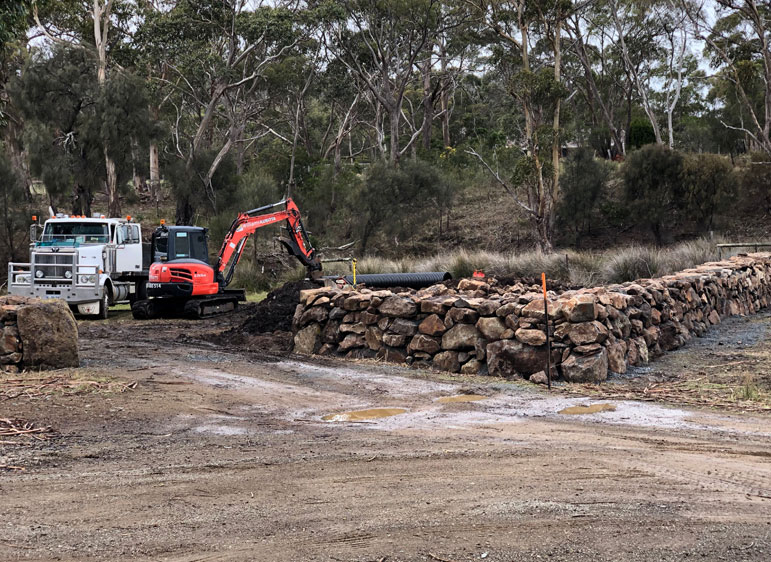 Retaining Wall Builders Hobart
If you have been looking for the most reliable retaining wall builders Hobart residents trust, be sure to give us a call. At Williams Excavations, we build, repair, and maintain the best retaining wall fence Hobart has to offer.
Our expert team specialises in offering both the best retaining wall installation and retaining wall construction Hobart residents depend on. We have standing partnerships with Hobart-based suppliers that supply us with quality assured retaining wall materials thus allowing us to satiate all your needs in no time.
Hire us today and let our dedicated team of expert retaining wall fitters, designers and visualisers work their magic and leave their expert signature on your property that will last for years to come.
Where do we offer our retaining wall services?
Our retaining wall services are available to our clients located throughout Southern Tasmania including Barossa Valley and Adelaide.
Why choose us?
You choose us for the following reasons –
We offer unique and scalable retaining wall construction, repair, and maintenance services.
We have a streamlined process whenever we take on any project that allows us to be your one-stop-shop when you are looking for a retaining wall contractor that can help your property get equipped with beautiful and sustainable retaining walls. Apart from designing and constructing beautiful retaining walls, we also offer retaining wall maintenance services at affordable rates.
Furthermore, we can assure you that our services come with excellence and our services with accountability that enables us to be considered as the ideal retaining wall service provider in and around Hobart.
Call us on 0429 680 514 / 0417 505 842 to get your FREE on-site quote.